The Story and Science Behind our Socks
Neon Bandits is a sock brand based in Boston, Massachusetts.
Tired of the specialization in the sock market (a different sock for each activity), sibling duo Dan and Sammy Cohen launched Neon Bandits in an effort to create the ultimate sock pair, for the on-the-go individual. All Neon Bandits socks perfectly marry performance and style; you don't #grabapair of Neon Bandits to blend in, you rock Neon Bandits so when you go to cross the street, people stop for you.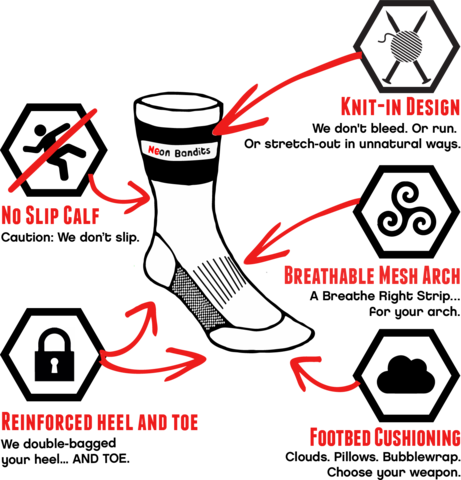 Neon Bandits socks feature a knit-in design, a reinforced heel and toe, mesh arch support and a signature no-slip calf. Made from high quality materials, our socks deliver the ultimate in cool comfortability and don't fade or lose their shape with washing and wearing. 
Learn more about knit-in socks
Neon Bandits also offers fully custom knit-in socks for your creative needs! Leave the heavy lifting of design and development to our team of innovative and thoughtful creatives; thought goes into every stitch! When it comes to custom, Neon Bandits offers low minimums on high-quality socks and works alongside you from start to sock. Each custom sock is uniquely designed and developed, just for you.
Learn more about custom socks